Moving towards computerized testing of visual function
Vision testing rooms are nowadays benefiting from new technological developments; one of paramount importance being the new computer based optotype charts, which are currently replacing old projectors in many clinics. Modern flat panel displays have huge advantages over traditional projected charts, including improved resolution, luminance and contrast, as well as options that were not possible on old projectors, for example randomization of letters or symbols, automated calculation of logMAR VA scores, or instant conversion of VA values into different notations.
Digital based displays are also highly versatile: they can be easily calibrated for any viewing distance, –allow customized selection of optotypes for difficult patients (for example when testing young children or low vision patients)–, provide automatic recording of responses, and allow changes in psychophysical methods for determining thresholds.
The superiority of computer based visual displays for vision testing is unchallenged, and hence the solid trend to replace both old wall-mounted Snellen charts and projectors in modern practices. However, the implementation of computerized charts is being hampered by their high cost and software compatibility issues. These reasons explain why this superior technology is not yet widespread internationally.
In order to overcome the shortage of computerized vision tests, Optonet has developed a comprehensive multi-platform Vision Unit software with a wide battery of vision tests for the assessment of visual function; including standardized VA, binocular vision tests (suppression, stereoacuity, Fixation Disparity, Aniseikonia, etc) and some tests for the detection of abnormal ocular conditions (Contrast Sensitivity, Potential VA tests, etc..).
At present, the vision unit is available as a freeware resource to all eye-care practitioners, and can be easily installed in most conventional computers for the display of high quality optotypes on a standard flat screen. The vision unit has been developed according to international guidelines in order to promote widespread and international acceptance of standardized visual tests.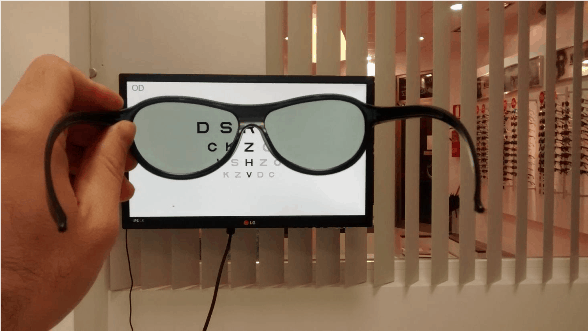 The Optonet Project's goal is to make this technology easily accessible in order to facilitate the adoption of standard vision examination by all visual testing rooms; many of which do not currently benefit from this kind of technology. Widespread adoption of standardized vision tests during daily practice will facilitate more accurate measurements, effective inter-professional communication, and necessary modernization of procedures, all of which will reflect in a higher quality of vision care for the general public.
How to implement the Vision Unit in the clinic?
The Optonet vision unit is a cross-platform application written in Java and designed to be compatible with most computer operating systems (Windows, Mac or Linux). The tests can therefore be displayed on any modern computer screen (or Windows Tablet) and can be calibrated for any viewing distance with a millimeter precision. The vision Unit can be easily incorporated to every examination room, either to complement or to replace a more dated system.
We ask professionals to get involved in the continuous updating of the vision unit. The suggestions by practitioners guide new improvements of the software to best adapt it to their needs. We want the Optonet vision unit to be designed by eye care practitioners for them to use daily. We would like to invite you to give us your feedback on how to further improve the vision Unit.
Let's make the perfect vision Unit, available to everyone in the world!
Certifications ISO – Designed in compliance with:
Medical device software. Software life-cycle processes.
Ophthalmic Instruments. Chart Projectors.
Ophthalmic optics. VA testing. Standard optotype and its presentation.
VA test types. Test charts for clinical determination of distance VA.
Hadware options for the Optonet vision unit
The Optonet Vision Unit can be installed in most computers, as it runs either in Windows, Mac or Linux operating systems; the tests can be displayed on any modern computer screen, for example: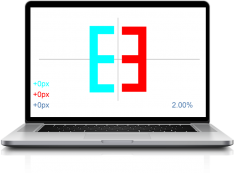 Ideal for domiciliary eye exams, school screenings, o just as a useful addition in your testing room.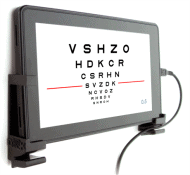 Same purpose as laptop, but also ideal to display both distance a near vision tests.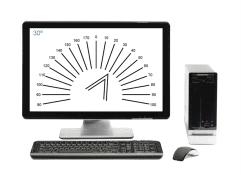 A conventional desktop computer with its monitor connected is a simple solution.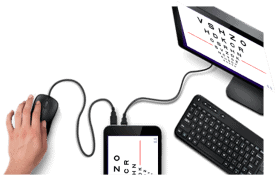 4. Tablet + External Screen
This allows running the vision Unit on both the tablet and external monitor. The tablet must have at least the resolution of the external monitor.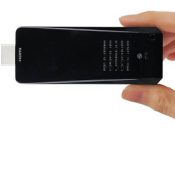 To dedicate a PC solely for the vision unit. Quick starting and affordable.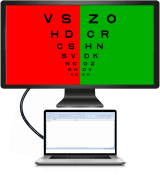 6. Laptop + External Screen
This allows running additional software on the PC while displaying the vision unit on the larger screen.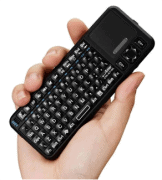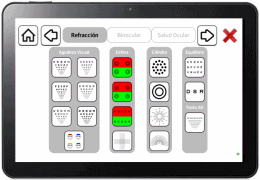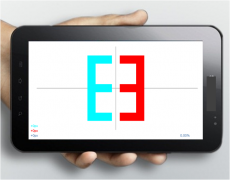 Option I:  Monitor + Mini-PC + Wireless mini-keyboard or Tablet (Android)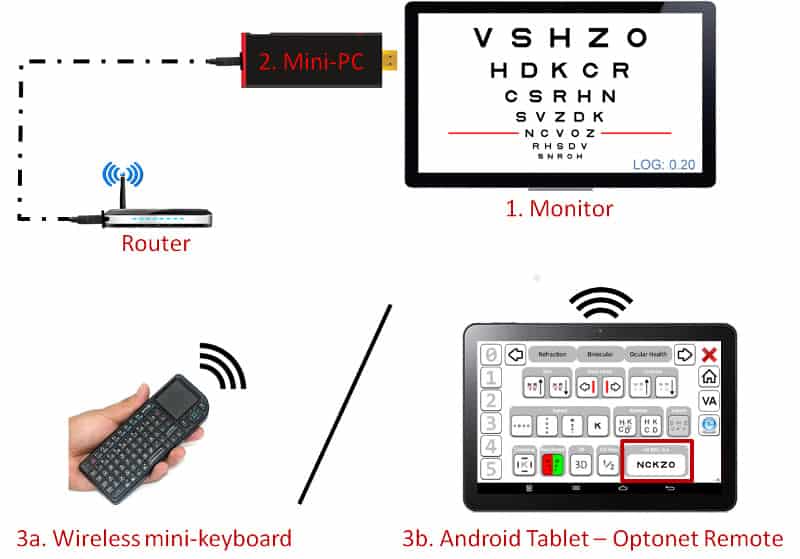 Option II:  Monitor + Tablet-PC Windows + Wireless keyboard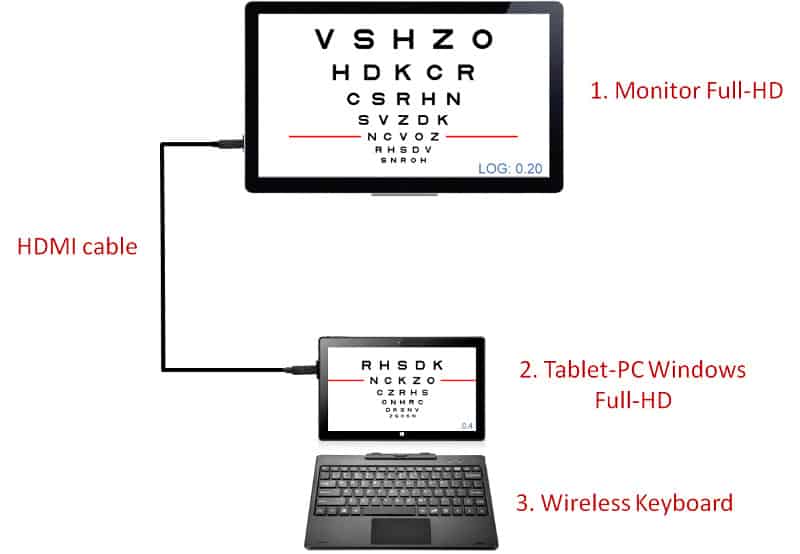 Option III:  Tablet-PC Windows + Wireless keyboard or Tablet (Android)